AL Amyloidosis Pipeline, Emerging therapies and Drugs by DelveInsight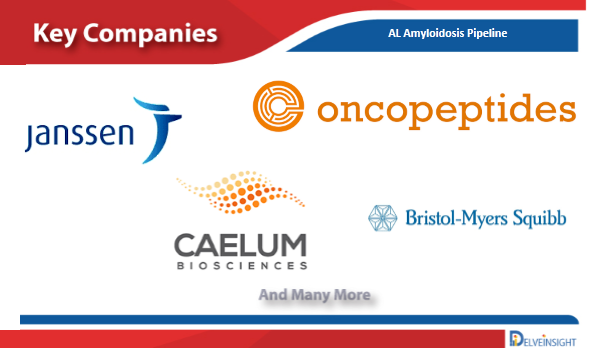 DelveInsight has launched a new report on "AL Amyloidosis Pipeline"
Amyloidosis is a rare disease resulting from abnormal protein deposits, called amyloid, in the body's various tissues. Depending on the particular amyloid structure, the protein can accumulate in an isolated tissue or be widespread, affecting numerous organs and tissues. There are over 30 different amyloid proteins. Each amyloid protein is arranged in a structure called a fibril—low molecular weight proteins derived from precursor proteins. Fibrils of amyloid can float in the plasma of blood and deposit into tissues of the body.
Request for free sample copy- https://www.delveinsight.com/sample-request/al-amyloidosis-pipeline-insight
AL Amyloidosis Pipeline analysis across different stages of development (Phase I, II, and III), different emerging trends and comparative analysis of pipeline products with detailed clinical profiles, key competitors, launch date along with product development activities
AL Amyloidosis Pipeline
The current therapeutic approach to systemic amyloidosis is based on the observations that organ dysfunction improves, and survival increases if the synthesis of the amyloidogenic protein precursor is halted. Therefore, the aim of therapy in AL amyloidosis is to reduce the supply of amyloidogenic monoclonal light chains rapidly by suppressing the underlying plasma cell dyscrasia. Decisions about specific treatment regimens for individual patients must consider the balance between anticipated treatment efficacy and tolerability.
Emerging therapies included in the report
Daratumumab: Janssen Pharmaceutical
CAEL-101: Caelum Biosciences
Melflufen: Oncopeptides AB
Elotuzumab: Bristol-Myers Squibb
Evomela: Acrotech biopharma
Isatuximab: Sanofi
AL Amyloidosis Emerging Therapy
The available therapeutics treatment options in AL amyloidosis landscape aim to slow the disease progression and not stop the disease to improve survival benefits. In order to overcome the drawbacks of the treatment, a few companies are working robustly to identify the cause of disease and targeted therapy. Four major drugs are expected to enter the market by 2030.
AL Amyloidosis Emerging Therapy Assessment
Cardiac involvement commonly manifests as heart failure. Renal involvement usually presents as nephrotic syndrome with progressive worsening of renal functions. Thus, a significant cost burden is associated with the consequences of AL amyloidosis. There is a high rate of heart failure in patients with cardiac involvement, and the cost of a heart-failure related hospitalization is expensive but overshadowed by the high cost of heart transplant (the mean costs to Medicare per heart failure patient ranged from USD 28,766 to USD 36,216).
Patients with renal involvement may require dialysis and, eventually, kidney transplant, depending on the effectiveness of disease treatment and/or the need for pre-treatment transplants.
AL Amyloidosis Report Highlights
The companies and academics are working to assess challenges and seek opportunities that could influence AL Amyloidosis R&D. The therapies under development are focused on novel approaches to treat/improve AL Amyloidosis.
CAEL-101 has received Orphan Drug Designation from both the US Food and Drug Administration and European Medicine Agency as a therapy for patients with AL amyloidosis.
In January 2019 Alexion Pharmaceuticals and Caelum Biosciences announced a collaboration to develop CAEL-101 for light chain (AL) amyloidosis.
In May 2020, Sorrento Therapeutics announced it has received clearance from the U.S. Food and Drug Administration (FDA) for its investigational new drug (IND) application for STI-6129.
Request for free sample copy- https://www.delveinsight.com/sample-request/al-amyloidosis-pipeline-insight
Table of content
Introduction
Executive Summary
AL Amyloidosis: Overview
Pipeline Therapeutics
Therapeutic Assessment
AL Amyloidosis – DelveInsight's Analytical Perspective
In-depth Commercial Assessment
AL Amyloidosis Collaboration Deals
Late Stage Products (Phase III)
CAEL-101: Caelum Biosciences
Mid Stage Products (Phase II)
Bendamustine – Astellas Pharma GmbH
Early Stage Products (Phase I)
STI-6129: Sorrento Therapeutics
Pre-clinical and Discovery Stage Products
Drug Name: Company Name
Inactive Products
AL Amyloidosis Key Companies
AL Amyloidosis Key Products
AL Amyloidosis- Unmet Needs
AL Amyloidosis- Market Drivers and Barriers
AL Amyloidosis- Future Perspectives and Conclusion
AL Amyloidosis Analyst Views
AL Amyloidosis Key Companies
Appendix
Related Reports
Media Contact
Company Name: DelveInsight Business Research LLP
Contact Person: Yash Bhardwaj
Email: Send Email
Phone: +919650213330
Address:304 S. Jones Blvd #2432
City: Las Vegas
State: NV
Country: United States
Website: https://www.delveinsight.com/