Harkness Screens TV Round Table: Cine Europe Preview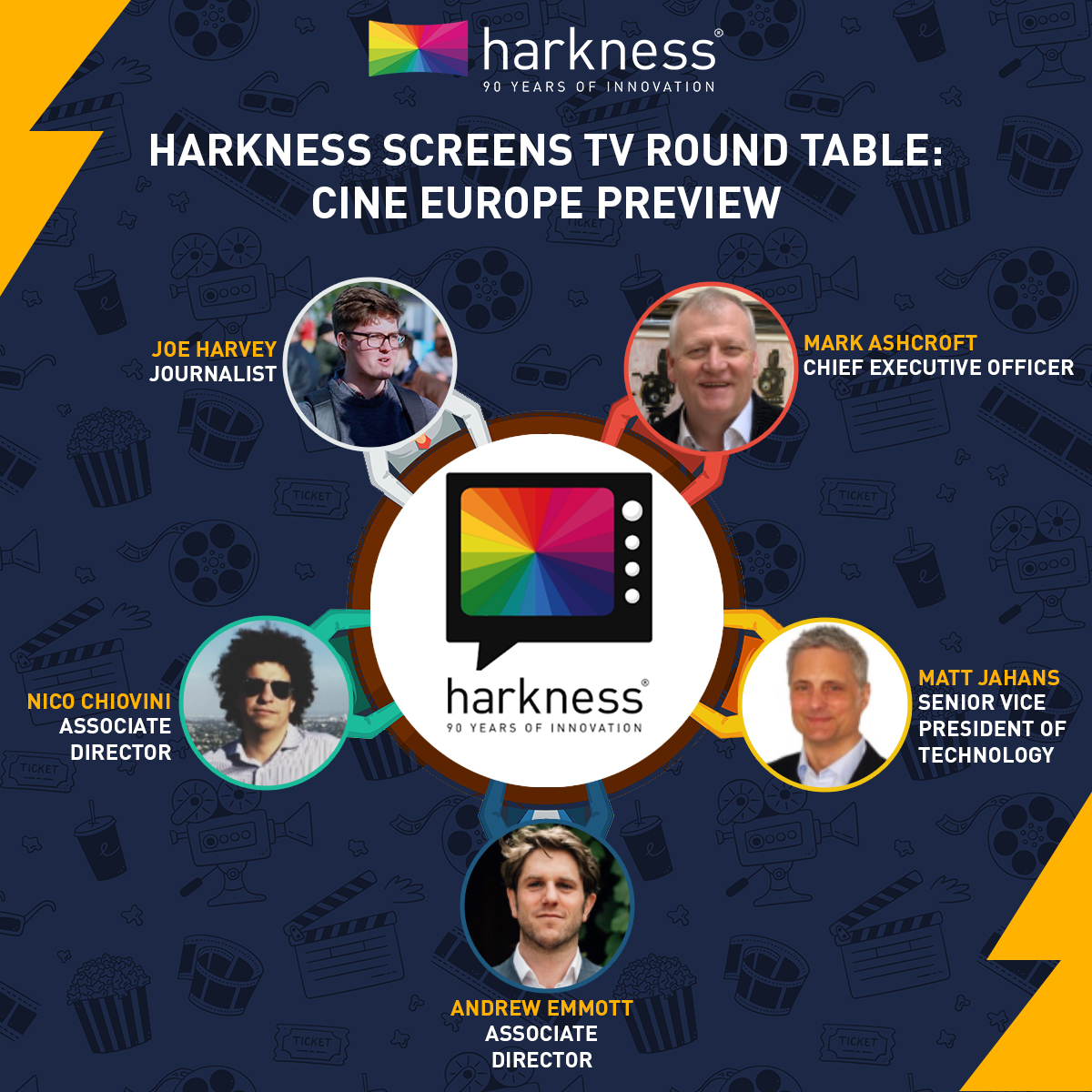 Mark Ashcroft, Chief Executive Officer Harkness Screens, Matt Jahans, Senior Vice President of Technology, Nico Chiovini, Associate Director, and Andrew Emmott, Associate Director, were hosted by journalist Joe Harvey to talk about the exhibition, as well as the return of cinema, a new Harkness product, how the company has restructured and more.
Ahead of the CineEurope taking place in Barcelona, Spain next week, in this edition of the Harkness Screens TV Round Table, we discuss the event and other key topics in the cinema industry.
Along with Tony Dilley, SVP New Business, Andrew Emmott has been ever-present at a number of industry events worldwide.
Having attended Cine Europe for six consecutive years prior to the global pandemic, Emmott is looking forward to making his way to Spain in the coming days.
"It will be my first cinema trade show in what will be about two years," Emmott told the round table.
"Missing last year, it was a bit strange not to be there, not seeing all the same people that we usually see and having a good time.
"A lot of good business happens there, but it is a very, very enjoyable week that we have, so I am looking forward to next week."
CineEurope comes at an extremely exciting time for cinema. In recent months, the box office has picked up drastically.
This has been aided in part by the release of Hollywood blockbusters Shang-Chi and the Legend of the Ten Rings and F9: The Fast Saga in the summer and on September 30 will see the long-awaited release of the latest Bond film, No Time to Die.
But, whilst releases from America regularly catch the eye, Matt Jahans is keen to express that regional releases are also key to the rejuvenation of the industry.
"When I look back on the early days of the pandemic and cinemas not getting the content because of different closures, it has been a very difficult time," Jahans said.
"I think now, there is such a backlog of slates and such good titles coming in – and if we look globally, different regions and different countries are opening up at different times and these different areas are opening with their own backlogs, which is fantastic.
"I think a different buzz around the world, not just Hollywood content, Bond is a classic one, but there is lots of regional content. So, it is an exciting time."
It has been a turbulent past year and a half for Harkness Screens and the cinema industry.
Throughout that time the business has had to be pragmatic and progressive in how business is done and after keeping its major manufacturing facilities in China, India, France, the UK and USA, operating, Mark Ashcroft says that some employees have increased responsibilities as a result of the strains the pandemic caused.
"Through the pandemic we have attempted to protect all of our manufacturing assets and are able to provide products," Ashcroft said. "However, we have had to unfortunately reduce our headcount.
"So, there is less critical mass in these regions and what we are seeing is that Nico, Matt and Andrew have now got full global responsibilities. Our team is anxious to work with customers and we are not limiting our customers as to who they can work with."
Harkness' innovation over the past 20 months can be seen no further than one of the latest screens that is being put on sale.
Compact+ is a foldable screen, designed for not only a more compressed delivery, which in turn brings down emissions and the amount of face-to-face interaction.
Not only this, but Nico Chiovini says that Compact+ will also contribute to the enjoyment of the cinema experience.
"Compact+ for me, is an opportunity to give products at the right time to the right theatre," Chiovini said. "We are talking about quality, not quantity, and Compact+ is the opportunity to bring the quality screen everywhere whilst saving money and really helping people enjoy the movies.
"Compact+ is not just a folded screen, it is something really exciting for us that we can bring to the market."
Video Link: https://www.youtube.com/embed/qdwEb4zp-wY
Media Contact
Company Name: Harkness Screens
Contact Person: Joe Harvey
Email: Send Email
Phone: +44 (0)1438 725 200
Address:Unit A, Norton Road
City: Stevenage
State: Hertfordshire
Country: United Kingdom
Website: www.harkness-screens.com