InfosecTrain, an Official Training Partner of the International Association of Privacy Professionals (IAPP), now offers Data privacy Courses
As an Official Training Partner, InfosecTrain now offers Data Privacy Trainings by the International Association of Privacy Professionals in India.
InfosecTrain in India, today announced its extended partnership with the international Association of Privacy Professionals (IAPP). As an Official Training Partner (OTP) of the IAPP, InfosecTrain will now be an authorized trainer of its Data Privacy certifications, bringing key privacy training courses to professionals.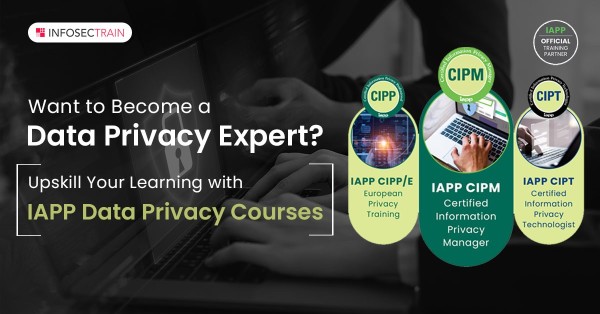 "There is an increasing demand for trained privacy professionals across the globe, and with our OTP program, we are able to offer gold-standard training and certification around the world to meet those demands," said J. Trevor Hughes, IAPP President and CEO. "With InfosecTrain now offering Data Privacy training in India, we're expanding the reach of our programs to deliver top-tier training and credentials across legal, tech, policy sectors and more."
"We are super excited to announce that InfosecTrain is now the Official Training Partner (OTP) with the IAPP. We have taken this strategic step to evolve our brand and offer the most comprehensive courses in the Information Privacy World. I am optimistic that this partnership will offer a great direction to professionals who serve their organizations with data protection, information auditing, legal compliance and similar areas", said Deepti Kalra, CEO InfosecTrain.
The IAPP developed and launched the globally recognized certifications like the Certified Information Privacy Professional (CIPP), the Certified Information Privacy Manager (CIPM) and the Certified Information Privacy Technologist (CIPT). These are the leading privacy certifications. These credentials are accredited by the American National Standards Institute (ANSI) under the International Organization for Standardization (ISO) standard 17024: 2012. The cost of each training includes an IAPP membership offering access to an expansive professional community, plus a wealth of privacy information and resources, including exclusive content and tools, expert analysis, legislative alerts and original reporting.
About the IAPP
The International Association of Privacy Professionals is the largest and most comprehensive global information privacy community and resource. Founded in 2000, the IAPP is a not-for-profit organization that helps define, promote and improve the privacy profession globally. Follow iapp.org for more information.
About InfosecTrain
Established in the year 2016, Infosec Train is a leading online training and certification course provider in different domains such as Cloud Security, Cyber Security, Data Privacy and many others. It specializes in offering recorded session access, post-training assistance, certified and qualified experts and tailor-made customized solutions to the aspirants.
Media Contact
Company Name:
Email:
Country: India
Website:
YouTube: https://www.youtube.com/c/InfosecTrain
Media Contact
Company Name: InfosecTrain (An Intiative by Azpirantz Technologies LLP)
Email: Send Email
Country: India
Website: www.infosectrain.com/