OnlineBookClub's Founder Scott Hughes, Awards 'How to Live a Life of Hope' as Club's Book of the Month for December 2022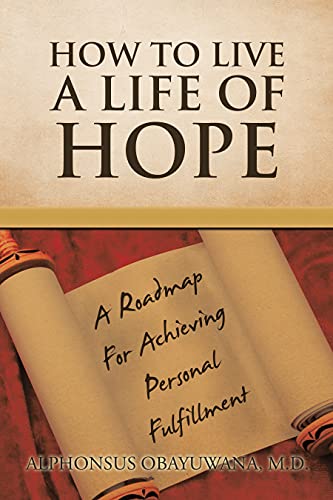 How to Live a Life of Hope received over 2850 shelf additions from the members of the OnlineBookClub, putting it among the most popular books on the platform.
The OnlineBookClub is pleased to announce its selection of How to Live a Life of Hope by Alphonsus Obayuwana, M.D., as its Book of the month for December 2022. Obayuwana's Book was selected after looking at a range of criteria, including opinions of members of the club, the number of shelf additions it has received and its high ratings to name a few.
The Book goes in great detail about self-help and personal development with a focus on spirituality, health and wellness. It emphasizes how to discover one's true calling, expand capacity to dream, and maximize acquisition of human hope.
Obayuwana also offers readers a unique approach to understanding the human condition, and his perspective will resonate with many readers.
How to Live a Life of Hope has been described as a must-read by a variety of reviewers and readers. This Book is a great resource for anyone who wants to improve their lives.
One reader said, "If you are looking for a practical roadmap on how to achieve Hope and Happiness, this Book, HOW TO LIVE A LIFE OF HOPE, is definitely for you! Whatever stage you are in life, this Book will guide you to personal fulfillment."
The way Obayuwana lays complex concepts into simple steps on the road to self-mastery is what made How to Live a Life of Hope many people's favorite, earning Book of the Month award by Scott Hughes (founder OnlineBookClub)
Anyone willing to read this book can visit OnlineBookClub's website and find the download/purchase links from stores based on their location.
Follow Scott Hughes on:
Media Contact
Company Name: OnlineBookClub
Contact Person: Scott Hughes
Email: Send Email
Phone: (860) 327-5260
City: Manchester
State: CT
Country: United States
Website: forums.onlinebookclub.org/shelves/book.php?id=505122