Game Jolt Introduces Exclusive LGBTQ+ Pride Collection to Support the Trevor Project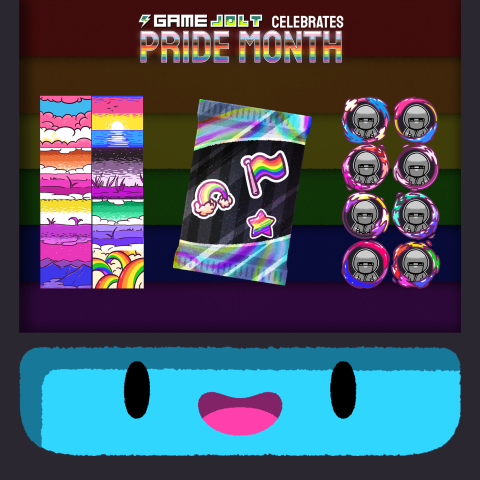 Game Jolt, the leading gamified social media platform for gamers, is thrilled to announce a special celebration of its LGBTQ+ community. In honor of Pride Month, Game Jolt will be launching a limited-time collection of purchasable digital stickers, backgrounds for posts, and profile frames. All proceeds from these exclusive Pride items will be donated to the Trevor Project, a renowned non-profit organization dedicated to supporting LGBTQ+ youth.
As an inclusive platform that values diversity, Game Jolt aims to foster a welcoming and supportive environment for all gamers. The introduction of the LGBTQ+ Pride Collection is a testament to the platform's commitment to embracing and celebrating the diversity within the gaming community.
The Trevor Project is a leading organization in crisis intervention and suicide prevention services for LGBTQ+ youth. By directing all proceeds from the Pride Collection to the Trevor Project, Game Jolt seeks to provide meaningful support and make a positive impact in the lives of LGBTQ+ individuals facing adversity.
"We are thrilled to celebrate our vibrant LGBTQ+ community on Game Jolt during Pride Month," said Yaprak DeCarmine, CEO of Game Jolt. "By offering these exclusive digital items and donating all proceeds to the Trevor Project, we hope to empower and uplift LGBTQ+ voices while making a tangible difference in the lives of young people who need our support."
Starting today and running until the end of June, the limited-time Pride Collection will be available for purchase directly through the Game Jolt platform. Users can choose from a variety of stickers, backgrounds, and profile frames to personalize their social experience and proudly display their support for LGBTQ+ equality.
To learn more about the Pride Collection and how to participate, please download the Game Jolt app at https://gamejolt.com/app
Media Contact
Company Name: Game Jolt
Contact Person: Caroline Mestriner
Email: Send Email
City: Los Angeles
State: California
Country: United States
Website: gamejolt.com/app