Silviano: The World's Smartest Laptop Sleeve Reached Its Goal Within Three Hours of Launch
Silviano, The world's Smartest laptop Sleeve, has reached its goal, raising over $ 6,000 within three hours since it launched on 13th October 2020, on Indiegogo. The crowdfunding campaign is still running and gained more than 100 backers within a few hours.
Brooklyn, New York – October 15, 2020 – Silviano, a 70 year old luxury leather goods manufacturer, launched its luxurious Smart laptop Sleeve Campaign on Indiegogo and has reached its $ 6,000 goal within three hours of its launch. On Day 1 it has reached over $13000, beyond its initial goal. This innovatively designed laptop sleeve is at a discount price before its production. The campaign is available only for in the next 30 days. People can participate in the campaign, starting from $69 or 63% OFF from suggested retail price.
Silviano Sleeve is built with Eco-Friendly vegetable-tanned leather and then finished with hand-painted traditional Italian technique to produce Tamponata leather. The Sleeve is equipped with SMART DEVICES to protect it from data theft and a global tracking system that can track the Sleeve last position. The Chipolos Global tracking network will easily find the Sleeve when it is lost or left behind. The users can easily find their sleeves by clicking their smartphone or voice-activated command that is compatible with Google Assistant, Amazon Alexa & Siri. It will show the Sleeve last position, with a single click.
Additionally, it is also equipped with RFID Blocking to protect the users' essential data against skimming or data theft. The built-in wireless charger will give peace of mind wherever the users go to work or travelling because its 10W wireless charger offers the fastest charger capability for iPhone or Android devices. In addition to the wireless charger feature, the company representative said, "It can fast charge three devices simultaneously, just drop your MacBook, iPhone, Ipad, Laptop or Android devices into the Sleeve, and the charger will do the rest."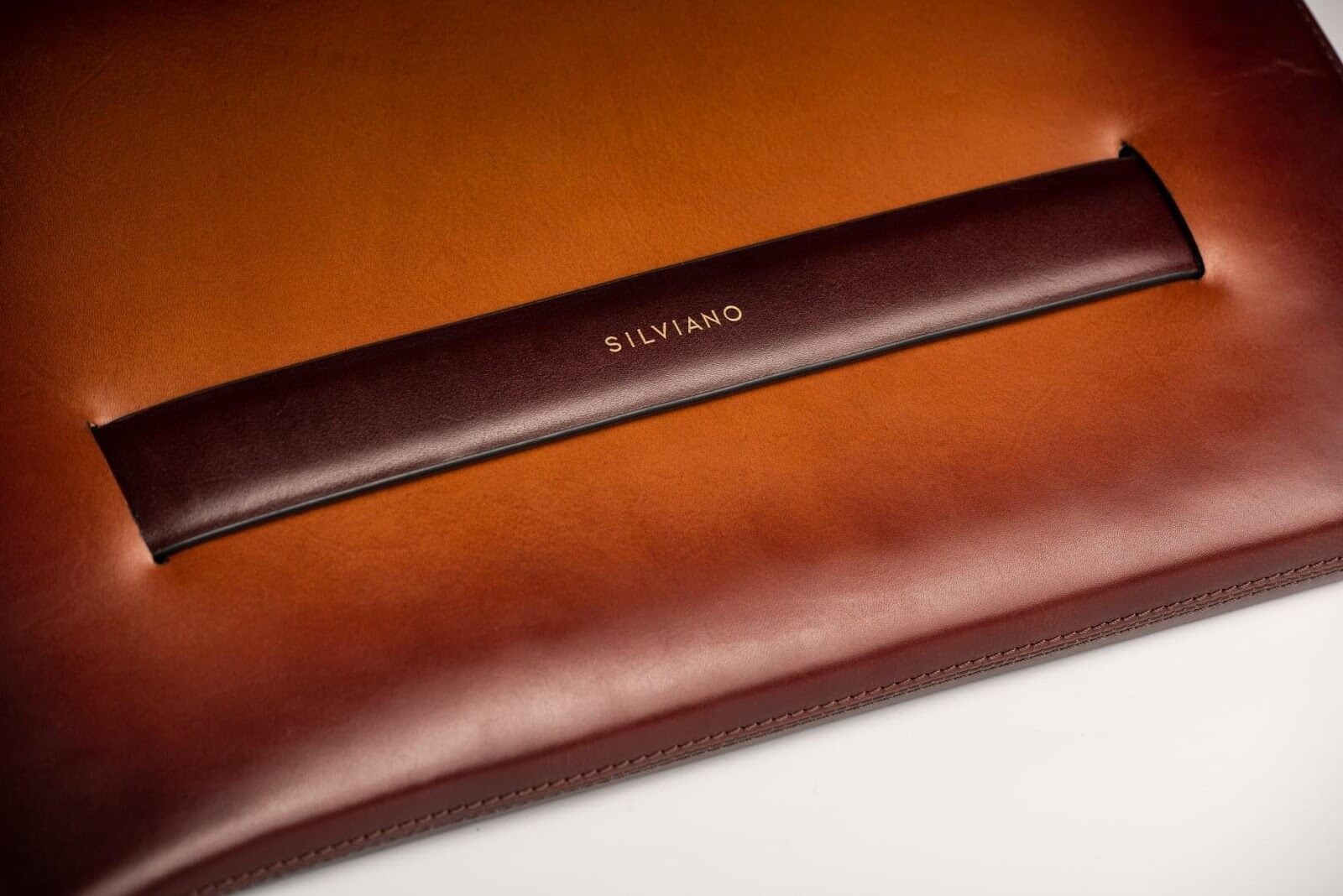 Silviano company representative Sonal Malhotra explained, "At Silviano, we have 70 years of experience producing high-quality handcrafted leather goods. Our brand new Smart Laptop Sleeves are manufactured in our factory, and we sell directly to the consumers. Therefore, our customers can get factory prices without markup."
Silviano Leather Sleeve Campaign is available on Indiegogo, one of the largest tech gadget crowdfunding platforms in the world. People can participate in the Silviano Smart Laptop Sleeve Campaign, and make sure to become the first owner of Men's Fashion Silviano Smart Laptop Sleeve. For more information, please visit https://www.indiegogo.com/projects/silviano-the-worlds-smartest-laptop-sleeve#/. The Silviano laptop bag crowdfunding campaign offers various bundles for worldwide backers. It starts from $69 to $177. On the cheapest bundle or Super Early Bird Tech Sleeve, backers can get it at $69 instead of $189 retail. While, on the VIP bundle ($ 177), the backers will get: The Sleeve, Wireless Charger, Tracker, Personalisation, Credit Card Holder, and a Secret Gift. All bundles will be delivered in December 2020.
About Silviano
Silviano is the 3rd generation family business based in the UK with factories in India and has more than 70 years of experience producing luxurious leather goods as well as laptop cases. To support or participate on the Silviano Men's Style Smart Laptop Sleeve Campaign, please visit their official Indiegogo page on https://www.indiegogo.com/projects/silviano-the-worlds-smartest-laptop-sleeve#/.
Contact:
Sonal Malhotra, Media Relations
Silviano UK Ltd.
77A St Johns Wood High Street
NW8 7NL
London
United Kingdom
Contact Number: +44 (020) 7586 1709
www.silviano.co.uk
Facebook: @houseofsilviano
Instagram: @houseofsilviano
Twitter: @houseofsilviano
Media Contact
Company Name: Silviano UK Ltd.
Contact Person: Sonal Malhotra
Email: Send Email
Phone: +44 (020) 7586 1709
Country: United States
Website: http://www.silviano.co.uk/